The friendship between
Adam Torres
and
Connor DeLaurier
began in 
Season 10
. The two became friends through mutual friend
Clare Edwards
and both being in the
science club
.
Friendship history
Overview
Season 10
In Don't Let Me Get Me (1), Connor, Wesley, and Adam welcome Alli Bhandari to the science club. They are all talking about science materials, accompanying each other, and basically enjoying their time in the club.
Season 11
In Cry Me A River (2), Connor comes to Adam's defense when Dave is acting transphobic.
Season 12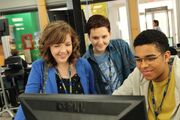 In
Closer to Free (1)
, the boys work on an English project with Clare. She tells them not to work with her because they didn't like the ideas
Asher
was giving her. Then Connor tweeted everything Clare was saying about Asher and them not "sharing her insight" and tagged her in the tweets. Adam laughed and thought this was funny. Clare read the tweets with her boss, Asher, and got very embarrassed and is now mad at them.
In Closer to Free (2), he is seen in the front of class with Adam and Clare as she presents their project. When their teacher asks why she didn't follow the format, he says that he wanted to but Clare wouldn't let them. Later, he is seen with Adam watching the "Stuff Clare Says" video.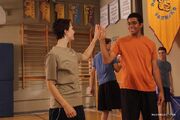 In
Doll Parts (1)
, Connor and Adam briefly talk after volleyball tryouts.
In Doll Parts (2), Connor and Adam both make the volleyball team, which Adam is happy about, and Connor tells him he deserves it.
Trivia
Both boys are/were friends/on good terms with Dave Turner, K.C. Guthrie, Jenna Middleton, Mo Mashkour, Clare Edwards, Alli Bhandari, Eli Goldsworthy, and Wesley Betenkamp.
Both Connor and Adam were on the men's volleyball team at Degrassi, after both formerly being in the science club.
Both were in the Class of 2014.
Both have been noted as outcasts.
Both are disliked by Luke Baker.
Both were involved in the Stuff Clare Says videos.
Both have been attracted to Fiona Coyne, but only Adam has been in a relationship with her.
Both have been in a band.
Both have been involved in Romeo and Jules. Adam as Stage Director and Connor as Fair Lawrence.
Both of their relationships ended in About a Girl.
In Young Forever after Adam's funeral, Connor said that he, Jenna, and Alli barely knew Adam.
They were both members of the Bright Sparks.
Gallery