Adam Lazarra from Taking Back Sunday Married My Mom!
is a Degrassi Mini, a part of the second season of minisodes, that aired in the
sixth season
.
Cast
Adam Lazzara as himself
Eddie Reyes as himself
Other Taking Back Sunday members as themselves
Plot
Spike and Adam are cuddling on the couch, and Emma says that Adam isn't going outside because of all of the groupies. Liberty is also a fan of Adam, finding him attractive, and Emma tells her that he is her stepfather. The rest of Taking Back Sunday enter with food, and Spike comments that this is the life, saying she could have spent all her years in boredom, referring to the life she almost had with Archie. Emma comments that Spike almost married a lame teacher, Archie, and Adam says that no one gets "his woman" besides him. In the background, Eddie chokes on food, while other members try to help him. Ellie runs into the house, and Emma tells her that the band is not giving interviews before kicking her out. Archie then enters with roses for Spike, begging for another chance with her. Emma throws him out as well, as he states that he has loved Spike since high school. She calls him pathetic, but Adam tells her to not be unkind. Liberty flirts with Adam, which Emma finds disgusting. Adam decides to leave, and he kisses Spike goodbye. Emma waves to the band as they leave.
Quotes
Ellie: "Ellie Nash... music reporter... The Core..."
Emma: "Ellie Nash...leaving...the door..."
Video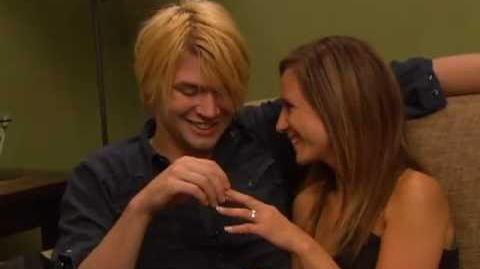 Alternate Versions