The friendship between
Anya MacPherson
and
Mia Jones
developed in the
seventh season
of
Degrassi: The Next Generation
.
Friendship History
Overview
They were friends sometime in Season 7, even when Anya was still friends with Holly J. Sinclair, who had a dislike for and rivalry with Mia. They'd also double date with their boyfriends Sav Bhandari and Peter Stone, who were good friends. They remained friends until Mia moved to Paris for a modelling gig.
Season 7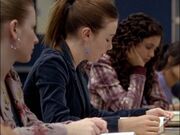 In Jessie's Girl, Mia suggests Holly J. should back off when she is rude to Anya about her dyslexia. Also, Mia convinces Anya to stop being friends with Holly J. because of what she did to her, but Anya continues to be friends with her.
In Another Brick in the Wall, Mia talks to Anya about a good grade she got on her paper. After Anya tells Holly J. that she can't hang out with her because she has plans with Sav, Mia says that her and Lucas could double date with Sav and Anya sometime.
In Everything She Wants, Anya asks Mia if her and Lucas would want to cram for the Chemistry exam with her and Sav on a double study date.
Season 8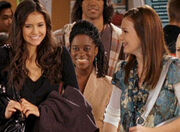 In
Uptown Girl (1)
, when Mia debuts her new look in the hallways, Anya tells her that she looks amazing. As Mia tells Chantay, Anya, Derek, Danny, and Holly J. that she has a few go-sees, Anya comments, "Wow, you're a real model".
In Uptown Girl (2), as Mia is passing in the hallway, Anya speaks up and tells her that they have heard the news about Mia getting the T-Bombz gig, and later asks her if she really partied with Tom Blake all night.
In Fight the Power, Anya and Mia both cheer for the football game with the cheerleading team. They also both attend Peter's party.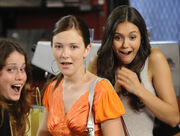 In
Money for Nothing
, both Anya and Mia are excited when hearing that their team made the Florida Competition. Anya and Mia arrive at The Dot and show Holly J. the bikinis for their trip to Florida. Anya then decides she wants Mia as the new Power Squad captain since Holly J. publicly leaked out what happened to Mia on TV.
In Bad Medicine, Anya calls Peter and Mia over to sit with her and Riley while they were on their date. Anya goes to the bathroom together with Mia. Later before class, Peter, Mia, and Anya are talking and laughing together.
In Causing a Commotion, Mia and Anya are sitting next to each other at the ceremony for The Shep.
In Heat of the Moment, Anya and Mia are both at cheerleading practice.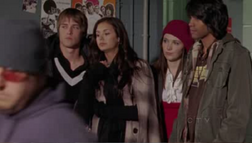 In Jane Says (1), Anya and Mia were already planning a sleep over, but they turn it into a couples sleepover with Anya, Mia, Sav, Peter, Leia, and Danny together. At the sleepover, both Anya and Mia wish to do something more social than watching tv, and Anya suggests they play Truth or Dare. After everyone has fallen asleep, Mia and Anya are sleeping next to each other on the floor. Leia drags everyone down to the Fall Out Boy concert, which they don't have tickets to, and when Leia can't get them in because she lied, Anya and Mia look annoyed. They head back to his loft to watch LOST with Peter and Sav.
In Jane Says (2), Anya and Mia are both at cheerleading practice.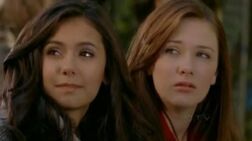 In Heart of Glass, Alli asks and Anya if their boyfriends are ever not "in the mood." The girls then proceed to tell Alli that Johnny was "with" a lot of other girls at Lakehurst or in Mia's words "he was a total dog.". Mia is talking to Anya about her relationship with Peter. Anya signs her and Mia up for the Mock UN, where Mia confronts Peter about Darcy.
In Up Where We Belong, Anya tries to comfort Mia about her failing grade on her report by showing Mia her own grade, and they try to plan a study session, before Mia finds out she has to work. Anya seems to be worried when Mia announces that she's dropping out of school. When Mia returns to school, Anya excitedly hugs her. They plan a study session at The Dot with their friends.
In Danger Zone, Anya and Mia show up at The Dot during the shooting, where they reunite with their boyfriends. At the dance, they applaud Holly J. once she shows up.
In Degrassi Goes Hollywood, Anya asks Mia if she will audition for Jason Mewes's film Mewesical High, but Mia tells her that she'd rather meet Michael Raye, the star of the film. Anya figures out that she has a crush on him, and Mia states that she just likes his movies. Anya and Mia sit next to other while The Studz audition for the movie, and Anya watches as Mia flirts with Michael Raye. The two are excited when The Studz get the role for the film.
Trivia
Gallery