Bianca DeSousa
and
Mark Fitzgerald
were part of a trio (which included
Owen Milligan
) of trouble makers in
Season 10
. The two were particularly cruel to Adam Torres upon finding out that he was transgender. Their friendship presumably ended after Fitz was expelled from Degrassi.
Friendship history
Overview
Fitz and Bianca became friends sometime before What a Girl Wants (2), and they are shown interacting a few times throughout The Boiling Point. It is assumed that their friendship ended because Fitz was expelled, and because Bianca hasn't mentioned or spoke of him since then.
Season 10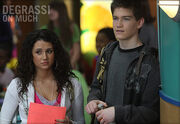 In What a Girl Wants (2), Fitz is with Bianca and says, "Loser!" when Dave is giving his student representative speech.
In Better Off Alone (1), Fitz and Bianca are at the Dot. They get drunk with K.C.
In Better Off Alone (2), Fitz and K.C. is seen in the back of Bianca's car. They are all suffering from hangovers and slept in the car the previous night.
In My Body Is A Cage (2), Bianca finds out that Adam has boobs and is transgender. Later, Fitz and Owen confront Adam in the guys bathroom, telling him to pee standing up. When Adam doesn't Owen lifts Adam, and throws him through a door outside the bathroom.
In Purple Pills (2), Fitz invites Bianca to fight Adam since "Guys can't punch girls".
Trivia
Gallery