Caleb Bongard

Information
Full Name
Caleb Bongard
Gender
Male
Date of Birth
2005
Eye Color
Brown
Hair Color
Brown
Network
Family
Blair Bongard (Mother)
Production
First Episode
Jesus, Etc. (2) (1038)
Last Episode
Jesus, Etc. (2) (1038)
Episode Count
1
Portrayed By
Anthony Moniz Lancione
Caleb Bongard is the son of Blair Bongard whom K.C. Guthrie and Jenna Middleton babysat in Jesus, Etc. (2). He was portrayed by Anthony Moniz Lancione.
Character History
Season 10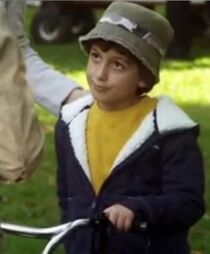 In Jesus, Etc. (2), his mother introduces K.C. and Jenna to him as her "conversationally selective" son. Jenna asks if she means he's a little shy. In a strict voice, his mother says "I would prefer if you didn't use the 'S' word around him." She tells him to have fun and leaves. Jenna asks if he likes music, and he shrugs. She tells him that she has written a song, just for him. He interrupts her in the middle of her song and says "I want to go to the zoo!" and Jenna is shocked and says "Excuse me?". He repeats it, and K.C. tells him "A trip to the zoo ain't down in the itinerary." Caleb, angered, kicks K.C. in the shin. Jenna tells Caleb that kicking people is bad. Caleb begins to scream as loud as he can, and Jenna tries to offer him organic fruit snacks. It starts to storm, and Jenna says that there is no way they can be parents. K.C., desperate, looks at the hot dog stand and asks Caleb if he wants a hot dog. Jenna does not approve, because she knows Blair would be furious. He stops screaming and grins, saying "Hot dog?". K.C. goes over to the hot dog stand to buy him one. A little later, once the storm has stopped, Jenna spots Blair coming back. K.C. reminds Caleb that the hot dog is a secret, which nobody can know about except for people in the "special hot dog club". Blair asks how the babysitting went, and they tell her it was fine. Caleb happily tells her that he ate a hot dog, and K.C. and Jenna exchange nervous glances. She appears angered and asks if the hot dog was organic. They tell her it wasn't. She nags them about how unhealthy a hot dog can be. She also tells them that they need to learn not to let a child push them around. She says "Now if you'll excuse me, I need to perform a holistic cleanse on my son." She tells Caleb that it's time to go, and Caleb says goodbye to Jenna and K.C. As soon as they're gone, K.C. and Jenna burst out laughing and decide to go get a hot dog.