Careless Whisper
Comments

19
2,104pages on
this wiki
"Careless Whisper"

Season 2, Episode 14

Information
Can. Airdate

January 3, 2003

U.S. Airdate

January 13, 2003

Prod. Code

214

Writer(s)

Aaron Martin (story)
Craig Cornell (story)
Aaron Martin (teleplay)

Director(s)

Laurie Lynd

Episode Guide
Previous
Next
Careless Whisper
is the fourteenth episode of
Season 2
of the Canadian television series,
Degrassi: The Next Generation
. It originally aired on January 3, 2003 on
CTV Television
and on January 13, 2003 on
The N
. The episode was directed by Laurie Lynd and shares its title with a song of the same name by George Michael.
Main Plot
Marco
's been acting very strange, and
Ellie
wants to know how to help him. But Marco's convinced that his secrets will drive her away and all of his friends too. He may be in for a surprise.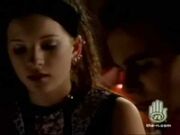 Sub Plot
Toby and Kendra seem to be having 'marital problems'; Toby doesn't know when to chill out and stop being so clingy. Somebody is going to have to have a conversation about space and relationships.
This episode is named after the song "Careless Whisper" by George Michael
Marco is revealed to be gay in this episode.
Regular Cast (Ordered Alphabetically)
Supporting Cast
Roger Dunn as Mr. Morton
Sue Johanson as Dr. Sally
Absences
Spinner: "Hey, Marcy don't forget your 'fem care.'"
Marco: "Shut up."
Spinner: "What, distracted by Dr. Sally's advice on boy-on-boy love?"
Marco: "Spinner, shut up!! Okay?"
Spinner: "Um, it was a joke dude."
Jimmy: "Just tune him out, he's just trying to get you started."
Marco: "I hate fags okay? What they do makes me sick..."
Jimmy: "...hey Marco..."
Marco: "...so just quit it! I mean like yesterday okay?"
Ellie: "Are we just...friends?"
Marco: "Ellie, I like you... a lot. And I mean you like me too, right? (Ellie nodds) So lets go out, like on a real date."
Ellie: "Are you serious?"
Marco: "Yeah...totally."