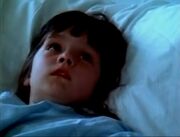 Catherine "Cookie" Peters
was a character on
The Kids of Degrassi Street
and was portrayed by
Dawn Harrison
.
Character History
Background
She was featured from the very first episode of the Degrassi Franchise, Ida Makes a Movie.
Catherine was a younger child, at the beginning of the story, who lived on Degrassi Street and was close friends with Ida Lucas, and later, Noel Canard. In 1980, she would form the INC Club with Ida and Noel.
Ida was presumably born around 1973, since she describes herself as 6 years old in 1979. Ida was a very frilly, feminine girl with a sweet disposition, and in her youth, was strongly attached to her dolls. In later years, she would study ballet.
Season 1 of KODS
In Ida Makes a Movie, Cookie is 6 years old. She likes to dance, is devoted to her doll, and as yet, is unable to read. She participates in Ida's movie about pollution, with Ida and her brother Fred. Taking her role very seriously, she dresses up for the part, and even creates a special dance for it. However, she is heartbroken when Fred throws away her beloved doll by mistake. Later, when Ida wins a prize for the film after the judges misinterpret its meaning, it is Cookie who first suggests that accepting the prize is dishonest, unless she comes clean about the error.
Roughly a year later, in Cookie Goes to Hospital, she has learned how to read, and has acquired a new doll to whom she is equally attached. She comes down with appendicitis, and goes to the hospital, but forgets her doll at the INC clubhouse. She continually demands the doll at the hospital, while Ida and Noel unsuccessfully try to find ways to get it to her (as the hospital won't let them in, due to their age). She is nonetheless coached through the operation by the kindly Nurse Trish, who has a doll of her own that she uses to teach kids. Eventually, Ida gets the doll to her, to which the now-anesthetized Cookie replies, "That's nice, Ida." Afterwards, Cookie seemed to have emerged stronger from the experience, showing off her scar, and talking about how nice everyone was.
In Irene Moves In, Cookie befriends her new neighbor Irene while Ida shuns her, wanting things to remain exactly as they were before her arrival. This causes a rift in Cookie and Ida's relationship that would eventually subside.
In Catherine Finds Her Balance she has to decide which one of her parents, whom are separated, to ask to go to her gymnastics competition.