Chaz Bono
(born Chastity Sun Bono) was the celebrity judge for the High School Battle of the Bands competition that
WhisperHug
performed in. He is an adult transgender man and the son of entertainers Cher and the late Sonny Bono.
Character History
Season 12
In
Tonight, Tonight
, Chaz was a judge for the competition while he was on break from his book tour. He tells the competitors that they're looking for star quality, great music, and orginality. Later at the competition,
Adam Torres
goes to talk to him after he gets WhisperHug disqualified for punching a member of a rival band. Adam tells Chaz that he got into a fight because he was made fun of for being FTM, which Chaz tells him isn't an okay reason to fight.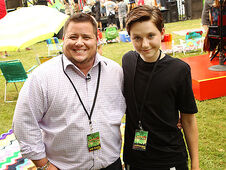 Adam tells him that he's messed up everything for a girl, and Chaz asks for the name of the girl, to which Adam says is Becky Baker. Chaz tells Adam that love is messy and to not blame Becky for her parents' attitude. Adam tells Chaz that he is his idol, and Chaz says that Adam is personally his idol for being this far along in high school. Chaz agrees to talk to Bullfrog Goldsworthy about allowing WhisperHug to perform back on stage.