Christopher Kerwin is the husband of Robert Kerwin and stepfather of Ashley Kerwin. He was portrayed by David Orth.
Character History
Season 4
In Anywhere I Lay My Head, Christopher and Robert went to Ashley's parent-teacher conferences together, where they met Ashley's best friend Ellie Nash and her mother Caroline Nash. As she was drunk, Mrs. Nash insulted them when she learned that they were gay, much to Ellie's embarrassment.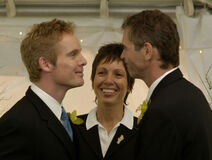 In
Voices Carry (1)
, Christoper and Robert were getting ready to get married. They slow danced together when their wedding party went to a gay club.
In Voices Carry (2), Christoper and Robert got married. However, at their wedding, Ashley's boyfriend Craig Manning interrupted to announce that he and Ashley are getting married, which upset Robert, Christopher and her mother Kate Kerwin. Christopher tried to lead Craig away, but Craig knocked over a table in the process.
In Secret (1), Christopher and Robert returned from their honeymoon in Puerto Vallarta. Ashley told Craig that they had asked about him. At the time, Craig was extremely angry at Ashley for sending him to the same therapy group that Ellie attended and sarcastically asked her if Robert and Christopher had referred to him as "Crazy Craig."
Trivia
His surname was never revealed.
Appearances