Ad blocker interference detected!
Wikia is a free-to-use site that makes money from advertising. We have a modified experience for viewers using ad blockers

Wikia is not accessible if you've made further modifications. Remove the custom ad blocker rule(s) and the page will load as expected.
Class of 2017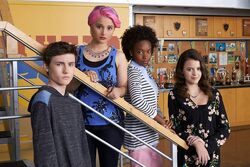 Class Chronology
The Class of 2017 is the class who will graduate Degrassi Community School in 2017. The class so far consists of nine students that we know of: Frankie Hollingsworth, Hunter Hollingsworth, Lola Pacini, Shay Powers, Arlene Takahashi, Keisha, Baaz Nahir, Yael Baron and Vijay Maraj.
Characters
Main Characters:
Former Characters:
Interaction History
Relationships
The following couples were in a relationship at some point during their time at Degrassi:
Friendships
The following characters formed these friendships at some point during their time at Degrassi:
Conflicts
The following characters formed these conflicts at some point during their time at Degrassi:
Love Triangles
The following characters were in a love triangle during their time at Degrassi:
Attractions
The following characters developed feelings for each other during their time at Degrassi:
Trivia
Timeline
Gallery