The friendship between
Connor DeLaurier
and
Mo Mashkour
began in
Season 11
of Degrassi.
Friendship History
Overview
Connor and Mo started off as rivals when Connor joined the Degrassi football team. Though Connor made attempts to fit in with his teammates, Mo bullied him relentlessly. When Connor decided to retaliate by playing an elaborate prank on Mo, he discovered that Mo was deeply insecure himself. The two eventually made amends with each other, and worked together to win a crucial game for the team. They have both since gained each other's respect, as well as the respect of their teammates.
Season 11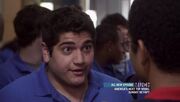 In
Not Ready To Make Nice (1)
, Connor decides to join the football team, one of the reasons being to help himself learn how to socialize with his peers. He has no trouble doing the football drills, beating out Mo for the starting nose tackle position. However, he still doesn't know how to fit in yet: he doesn't understand a joke
Drew
and
Owen
make, and then when he over laughs at Mo's joke (because he thought that's what he's supposed to do), he insults Mo. He also unintentionally insults Mo's weight. Mo's only on the team to pick up girls, so he has no problems being rude to Connor. Connor decides to play a joke on Mo by creating a fake
Facerange
profile and luring Mo into a date with a "hot girl" at The Dot.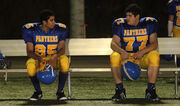 In
Not Ready To Make Nice (2)
, Mo skips the football game to meet the girl, but shows up near the end of the game disappointed because he was stood up. Connor admits that it was a prank, and tells Mo they should be friends because they're both wanting to be accepted. They both go into the game on the final play, and knowing the only way they can change the way their teammates see them is to win the game, they decide to pretend like they're arguing to throw off the offense. It works: Connor causes the QB to fumble the ball, and Mo grabs the ball and scores the game-winning touchdown.
In Hollaback Girl (1), Mo and Marisol are holding hands in the hallway, and they run into Connor in the hallway. Connor tells Mo that he is happy for him that he finally found love.
Season 12
In Bitter Sweet Symphony (2), they are both at a Student Council meeting with Jenna, Fiona, Marisol, Becky, Alli, and discussing Campbell's suicide. 
Trivia
Gallery