Craig-Marco Friendship
Comments

14
2,112pages on
this wiki
Craig-Marco Friendship

General Information
Intimacy Level
Best Friends, kissed, bandmates
Friendship Started
before Drive (206)
Friendship Status
Best Friends
The friendship between
Craig Manning
and
Marco Del Rossi
began in the
second season
of
Degrassi: The Next Generation
.
Friendship History
Overview
This friendship happened sometime in Season 2, and they remained good friends as the series progressed. Both Craig and Marco were in a band called Downtown Sasquatch that also had Jimmy Brooks, Spinner Mason (who later was out of the band in season 5) and then had Ellie Nash. This friendship lasted for a long time until Craig left for Vancouver.
Season 2
The two first interact in Drive, when Craig invites Spinner, Sean, Jimmy, and Marco to his house.
In Tears Are Not Enough (2), Marco expresses sympathy over Craig's dad's death.
Season 3
The two, along with Jimmy and Spinner, form a band called Downtown Sasquatch in U Got The Look. In Rock and Roll High School, Marco helps Craig think of lyrics to perform during the contest.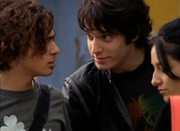 Season 4
In Secret (2), Craig and Marco help Jimmy escape from the hospital so they can go to a Kid Elrick concert together.
In Moonlight Desires, Marco is talking to Craig about his relationship problems and kisses him in order to make Dylan jealous. The kiss also weirds Craig out.
Season 5
In Weddings, Parties, Anything, the two are seen together when Downtown Sasquatch performs at a wedding.
In Tell It To My Heart, Craig tries to confront a bully who pushed a gay kid, Tim, into a locker. Marco, however, stops him.
In Together Forever, Craig and Marco are seen together for the last time that season.
Season 6
In What's It Feel Like To Be a Ghost? (1), Craig stays at Marco and Ellie's house. Craig plays a few songs for all of his old friends, including Jimmy, Ellie, Spinner, Marco's boyfriend Dylan, and an unhappy Manny. Later, Marco attends Craig's acoustic performance. Later, Craig eats dinner with Marco and their friends.
Season 8
In Paradise City, Marco tells Ellie that he still hasn't forgiven Craig for what Craig previously did to her (using her to try and continue his drug use) when Ellie tells Marco she will be staying with him. Later, Craig shows up at Paige's party to try and talk to Ellie, but Marco stops him because he has already upset her enough. When Ellie runs away crying, the two look for her and find her on the beach. Craig and Marco save Ellie from attempting to drown herself in the ocean.
Trivia
Quotes
Craig: "So when in doubt you kiss Craig?"
Marco: "I gotta settle this with Dylan."
Craig: "Yeah you do, you, you really really do!" - Moonlight Desires
Gallery