Dallas-Owen Friendship

General Information
Intimacy Level
Good Friends, Former Teammates
Friendship Started
Before Come As You Are (1) (1201)
Friendship Status
Good Friends
 The friendship between
Mike Dallas
and
Owen Milligan
developed as they both played hockey for the
Toronto Ice Hounds
. 
Friendship History
Season 12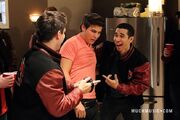 In
Come As You Are (1)
, Owen laughs when Dallas comments on the size of
Maya
's breasts. Later, they both attend
Drew
and
Adam
's party and get each other, Drew, and other members of the Ice Hounds drunk. Then, they both watch Drew announce that he had sex with
Katie
while intoxicated.
In Gives You Hell (1), they both laugh at Tristan when he tries to sit with Cam at lunch time. Later at the pep rally when a video of Drew announcing he had sex with Katie was shown during the sizzle-reel, Owen seems to be very angry at Dallas for giving Katie the footage.
In Rusty Cage (1), they are both seen the locker room before their game.
In
Scream (2)
, the two of them, along with
Luke
, are seen talking in the hallway and are then approached by Tori, Maya, and Zig when they hear Tristan's phone go off in Luke's pocket. Dallas then watches Owen push Luke against the lockers when he finds out that Tristan is missing and he has his phone.
In Karma Police (1), Owen notices that Dallas seems to be into Alli because he is frequently seen with her. Dallas reveals that he does like Alli and Owen encourages him to ask her out. He tells Owen that he hasn't had the nerve to do so, so Owen says he'll "sacrifice" Dallas as his partner so he can spend time with Alli.
Trivia
They are both friends with Drew Torres.
They both have been attracted to Alli Bhandari.
Owen has had a conflict with Dallas' roommate and friend, Adam Torres.
They both have made a transphobic remark to Drew about Adam.
They both are friendly with Bianca DeSousa.
They are both labeled as bullies.
They both were disliked by Katie Matlin, Fiona Coyne, and Clare Edwards at a time.
They both are Toronto Ice Hounds.
They both are in the Class of 2012 but only Owen graduated on time.
They were both seen in the season 12 opening credits together with the hockey team.
They attended the 2012 Prom together without dates and drank whiskey with Mo Mashkour.
Despite Owen being in several science and math classes at Degrassi together as well as Owen's history for solving his younger brother's social problems, Dallas does not respect Owen's intelligence
Gallery