Darcy-Holly J. Conflict

General Information
Intimacy Level
Rivals, Former Teammates
Conflict Started
Standing in the Dark (1) (701)
Conflict Status
Ex-Rivals
The conflict between Darcy Edwards and Holly J. Sinclair began in the seventh season of Degrassi: The Next Generation.
Conflict History
Overview
Season 7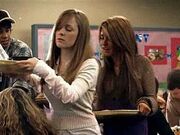 In
Standing In The Dark (1)
, Holly J. jumps into a conversation between Darcy and
Manny Santos
and gets catty with her mockingly calling her a good girl when she gets called down to the principal's office. At
Spirit Squad
practice Holly J. suddenly decides to wanna be co-captain but Darcy tells her that position is filled. She once again butts into another conversation of Manny and Darcy's which annoys Darcy.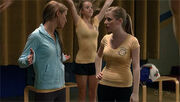 In Standing In The Dark (2), Holly J. calls the routine mediocre and taunts Darcy which causes her to leave.
In Live to Tell, when Darcy's rape causes her to become mentally unstable, Holly J. threatens to take her spot on the Spirit Squad. She later calls her crazy when she sees Darcy during a breakdown.
Trivia
Timeline
Gallery
Ad blocker interference detected!
Wikia is a free-to-use site that makes money from advertising. We have a modified experience for viewers using ad blockers

Wikia is not accessible if you've made further modifications. Remove the custom ad blocker rule(s) and the page will load as expected.