The conflict between Darcy Edwards and Paige Michalchuk began in Season 4.
Confict History
Overview
Darcy and Paige began their conflict in the season 4 episode West End Girls.
Season 4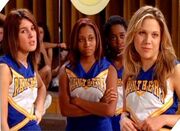 In
West End Girls
, Darcy, along with Chantay, helped Manny break Paige's leg during a cheerleading "accident" as revenge for her constantly changing routines and taking the credit for all the girls' hard work. She later complained to Manny about her guilty conscience.
Season 5
In The Lexicon of Love (2), at Spirit Squad practice Paige accidentally lets Darcy fall when Hazel comes over to talk to Paige.
In High Fidelity (1), Paige and Spinner cheat behind Darcy's back.
In High Fidelity (2), Darcy finds out about Spinner's affair with Paige and breaks up with him.
Season 6
In Here Comes Your Man (1), Darcy calls Paige a low grade ho, and Paige threatens to slap her but declines since she's not in high school anymore.
Degrassi Mini's
In De View Darcy and Paige got into an argument about sex. Darcy then suggests to do a audience member makeover, Paige then insults her appearance and calls her bible girl. When Darcy reaches her breaking point, and is tired of this and decides to leave De View and Paige waves to her in a sarcastic manner.
In Party Etiquette, both girls are dared to kiss each other. They both go through on the dare.
Trivia
Gallery