Ad blocker interference detected!
Wikia is a free-to-use site that makes money from advertising. We have a modified experience for viewers using ad blockers

Wikia is not accessible if you've made further modifications. Remove the custom ad blocker rule(s) and the page will load as expected.
Dave-Tori Friendship

General Information
Nickname
Dori; Santurner
Intimacy Level
Friends
Friendship Started
Sabotage (1) (1217)
Friendship Status
Friends
The friendship between
Dave Turner
and
Tori Santamaria
, known as
Dori
(
D
ave/T
ori
), started in the
twelfth season
of
Degrassi
.
Friendship History
Overview
The two began interacting when they were both cast in the play, Romeo and Jules.
Season 12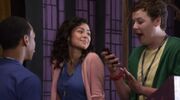 In
Sabotage (1)
, Tristan, Tori, and Dave are happy that the play rehearsal is going well. They all decide to audition for a guest role on
West Drive
. When Dave wins the role, Tori seems to be happy for him.
In Sabotage (2), Tori, Tristan, and Dave are walking together in the hallway, but Tristan and Tori leave when Alli Bhandari wants to talk to Dave alone.
In Scream (2), they perform the musical Romeo and Jules.
Trivia
They have both kissed their mutual friend Tristan Milligan.
They were both in the production of Romeo and Jules: Dave played Romeo and Tori played the nurse.
Dave is one year older than Tori: he was born in 1996 while she was born in 1997.
Gallery