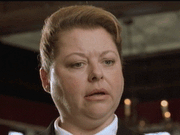 Deborah Lobban
is an actress who played the kind hearted and caring school secretary
Doris Bell
in Degrassi Junior High but didn't reprise her role for a spot in Degrassi High. After her role on Degrassi Junior High she made appearances in the shows Katts and Dogg, Forever Knight, Goosebumps, Eerie Indiana, and Highlander: The Raven.
Ad blocker interference detected!
Wikia is a free-to-use site that makes money from advertising. We have a modified experience for viewers using ad blockers

Wikia is not accessible if you've made further modifications. Remove the custom ad blocker rule(s) and the page will load as expected.