Degrassi (Season 13)
Comments

2k
2,112pages on
this wiki
Degrassi (Season 13)

# of Episodes

40

Air Dates

July 11, 2013 (Can & US)

Premiere
Finale
Season Chronology
The
13th season
of
Degrassi
premiered on July 11th, 2013, on
MuchMusic
(Canada) and
TeenNick
(U.S.). The first part of the season (13A) followed a weekly format for 7 weeks, depicting the summer of 2013. The second part of the season (13B) followed a weekly format for 8 weeks, depicting the fall of 2013. The rest of the season will depict the remaining parts of 2013-2014 school year. Starting on October 3rd, 2013, episodes will air on MTV Canada instead of
MuchMusic
in Canada.
Three actors were added to the main cast in the summer block: Andre Kim, Eric Osborne, and Ana Golja. With two more being introduced in the fall block: Sara Waisglass and Nikki Gould, the executive producer Stephen Stohn also confirmed more main characters will come throughout the season. The producers have also added some new people to the recurring cast. Production and casting for the season began on November 2012 through January 2013, with filming beginning in April 2013 and wrapping up on October 24, 2013, at Epitome Pictures studios in Toronto, Ontario.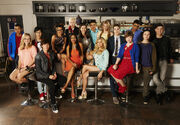 Main Cast
Freshmen (Class of 2017)
*Note: Sara Waisglass confirmed that her character, Frankie, would only be featured in a few episodes of Season 13.
Degrassi Staff
Recurring Cast
Students
Liam Green as Damon, a wise and outspoken student with a sense of humour. (Grade 10)
Samantha Helt as Christie, a steady girl who hooks up with Dallas (New) (Grade 12)
Dale Whibley as Neil, a jerk looking for hookups. (New)
TBA as Tony (New)
TBA as Keisha (New)
TBA as Hunter (New)
Other
Adults
Staff
Trivia
It was originally confirmed by Linda Schuyler that one or two seniors would be held back for this season. However, three were actually held back — Drew Torres, Mike Dallas & Imogen Moreno.
Casting/Auditions for new characters were held until December 17th, 2012. Source
Alex Steele confirmed that she will not return for this season, although there is a possibility she may return in the future.
This is the tenth school year featured in the series, also the third school year in the new Degrassi Era.
Episodes no longer air simultaneously in Canada and the US for 13A. They still air on the same day, except an hour later in the US.
The theme song, Whatever It Takes, is still performed by Alexz Johnson like Season 11 and Season 12, however, the audio is shortened. The visuals of the opening credits are also revamped, with vibrant colors and clips of episodes from the season.
Second time the show has introduced a new logo, the first being Season 6.
First season to not use a summer telenovela format since Season 9.
First season to have graduates in the main cast since Season 10.
First season since Season 12  to not have all episodes be two-parters.
First time that more than one episode depicts summer vacation.
First season in which the lead actors are only credited for the episodes they appear.
First instance of a student sneaking out of a hospital with the assistance of a friend since Season 4.
First season to have two deaths.
Third death of a main character after Campbell Saunders and J.T. Yorke
This season has covered the consequences and real-life issues of texting and driving.
First season with a Degrassi Minis/minisode connected to it since Season 11.
First instance of an abusive relationship since Season 11. 
First instance of false drug dealing since DJH Season 1.

The TeenNick slogans for the first part of the season are, "

A Whole New Degrassi

" and "

We Are Degrassi

", while the slogan for the second part is, "

Are You Ready To Get Schooled?

".

Brainstorming took place on December 3rd, 2012, while casting ended on December 17th, 2012.

Filming for Season 13 began in early April of 2013.

It's been confirmed by Stephen Stohn that another new character coming this season will be related to either a past or current character. Source
Stephan claimed that three new main characters would be introduced in 13A (Miles, Zoë, Winston) and one or two would be introduced in 13B (Grace, Frankie). Since it is unlikely that another new character will be introduced, and Frankie's relation to Miles doesn't count, it is highly possible that Grace, Zoe, or Winston are related to a past character. source
Episodes List
| Episode # | Title  | Canadian Airdate | U.S. Airdate | Production# | Series # |
| --- | --- | --- | --- | --- | --- |
| 1-8 | It's A Whole New Degrassi (13A) | July 11, 2013 | July 11, 2013 | 1301-1308 | 318-325 |
| 1-2 | Summertime | July 11, 2013 | July 11, 2013 | 1301-1302 | 318-319 |
| 3 | All I Wanna Do | July 18, 2013 | July 18, 2013 | 1303 | 320 |
| 4 | My Own Worst Enemy | July 25, 2013 | July 25, 2013 | 1304 | 321 |
| 5 | About a Girl | August 1, 2013 | August 1, 2013 | 1305 | 322 |
| 6 | Cannonball | August 8, 2013 | August 8, 2013 | 1306 | 323 |
| 7 | Honey | August 15, 2013 | August 15, 2013 | 1307 | 324 |
| 8 | Young Forever | August 22, 2013 | August 22, 2013 | 1308 | 325 |
| 9-16 | 13B | October 3, 2013 | October 3, 2013 | 1309-1316 | 326-333 |
| 9 | This Is How We Do It | October 3, 2013 | October 3, 2013 | 1309 | 326 |
| 10 | You Got Me | October 10, 2013 | October 10, 2013 | 1310 | 327 |
| 11 | You Oughta Know | October 17, 2013 | October 17, 2013 | 1311 | 328 |
| 12 | Everything You've Done Wrong | October 24, 2013 | October 24, 2013 | 1312 | 329 |
| 13 | Who Do You Think You Are | October 31, 2013 | October 31, 2013 | 1313 | 330 |
| 14 | Barely Breathing | November 7, 2013 | November 7, 2013 | 1314 | 331 |
| 15 | Black Or White | November 14, 2013 | November 14, 2013 | 1315 | 332 |
| 16 | Spiderwebs | November 21, 2013 | November 21, 2013 | 1316 | 333 |
| 17-30 | 13C | TBA | January 2014 | 1317-1330 | 334-347 |
| 17 | TBA | TBA | January 2014 | 1317 | 334 |
| 18 | TBA | TBA | TBA | 1318 | 335 |
| 19 | TBA | TBA | TBA | 1319 | 336 |
| 20 | TBA | TBA | TBA | 1320 | 337 |
| 21 | No Surprises | TBA | TBA | 1321 | 338 |
| 22 | Basket Case | TBA | TBA | 1322 | 339 |
| 23 | Unbelievable | TBA | TBA | 1323 | 340 |
| 24 | Sad But True | TBA | TBA | 1324 | 341 |
| 25 | What It's Like | TBA | TBA | 1325 | 342 |
| 26 | TBA | TBA | TBA | 1326 | 343 |
| 27 | Army of Me | TBA | TBA | 1327 | 344 |
| 28 | TBA | TBA | TBA | 1328 | 345 |
| 29 | TBA | TBA | TBA | 1329 | 346 |
| 30 | TBA | TBA | TBA | 1330 | 347 |
| 31-40 | 13D | TBA | TBA | 1331-1340 | 348-357 |
| 31 | TBA | TBA | TBA | 1331 | 348 |
| 32 | TBA | TBA | TBA | 1332 | 349 |
| 33 | How Bizarre | TBA | TBA | 1333 | 350 |
| 34 | TBA | TBA | TBA | 1334 | 351 |
| 35 | TBA | TBA | TBA | 1335 | 352 |
| 36 | TBA | TBA | TBA | 1336 | 353 |
| 37 | TBA | TBA | TBA | 1337 | 354 |
| 38 | TBA | TBA | TBA | 1338 | 355 |
| 39 | Thunderstruck (1) | TBA | TBA | 1339 | 356 |
| 40 | Thunderstruck (2) | TBA | TBA | 1340 | 357 |
Promos & Videos
13A
13B
13C
Season 13 Gallery