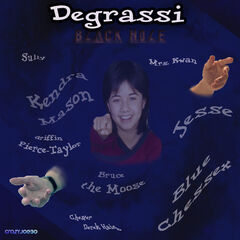 The Degrassi Black Hole
is the term for when characters from Degrassi have disappeared for no apparent reason. Sometimes the actor will leave the series or the writers don't have any material or story lines for the characters anymore. Whatever the reason, a character is considered "black holed" when they are never seen again and no explanation was given for their abrupt departure.
Characters That Entered the Black Hole
Main Characters
Recurring Characters
Minor Characters
Ad blocker interference detected!
Wikia is a free-to-use site that makes money from advertising. We have a modified experience for viewers using ad blockers

Wikia is not accessible if you've made further modifications. Remove the custom ad blocker rule(s) and the page will load as expected.