Degrassi Black Hole
Comments

275
2,111pages on
this wiki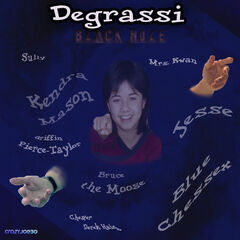 The Degrassi Black Hole
is the term for when characters from Degrassi have disappeared for no apparent reason.
When the writers want to get rid of a certain character, or if a cast member leaves for another acting job, etc., one of two things will happen:
A) Explain the character is going away and not coming back ever, such as Darcy and Mia.
B) The characters will just disappear and is never mentioned again, like Wesley and Leia. This is where the Black Hole comes into play.
It is very rare for a character from the Black Hole to appear on the series again, although it is not impossible.
Characters Who Have Entered the Hole
Main Characters.
Recurring Characters
Kendra Mason (seasons 2-3) - Spinner's adoptive sister and Toby's love interest. It was said that she supposedly cheated on Toby during summer camp. She is often symbolic of the Degrassi Black Hole, since she was the first victim
Chris Sharpe (seasons 3-4) - Emma's love interest, but after they broke up, he was only seen making fun of her for contracting gonorrhea. After that, he disappeared.
Griffin Pierce-Taylor (season 7) - Had the possibility to have a storyline dealing with his HIV, but to the writers, he was only meant to be Paige, Marco, and Ellie's roommate, and also Paige's love interest.
Minor Characters