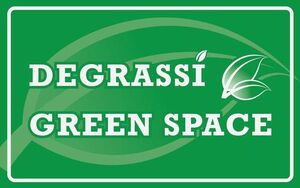 The Degrassi Green Space is the name of the garden that was built by Katie Matlin and Jake Martin. The two initially intended the idea to be a rooftop garden, but after Jake realized he needed his father's assistance, the project was moved to the ground level.
History
Season 12
In Never Ever (2), Toronto Ice Hounds members Mike Dallas and Luke Baker trashed the garden. Clare Edwards wrote an article about this in the school newspaper.
In Bitter Sweet Symphony (2), Campbell Saunders commits suicide in the greenhouse, and his body is discovered by Eli Goldsworthy.
In Ray Of Light (2), Katie tries to get the Green Space to re-open after Cam's death. She, Jake, Mo Mashkour, and Marisol Lewis proceed to break the wall that was intended to make sure students can't go into the garden. Archie Simpson gives them detention for destroying the wall, but reveals the PTA approved Katie's motion to re-open the garden. Later, Eli tells his father that he regrets walking into the green house and discovering Cam's dead body.
Season 13
In Unbelievable, the greenhouse can be seen in the background when Zoë Rivas walks pass it.
In Sparks Will Fly (2), Miles Hollingsworth III and Zig Novak have a fight in the greenhouse when Maya Matlin asked Miles to find Zig.
In Thunderstruck, Becky and Drew talk in the greenhouse, and later, it is destroyed by a tree during the storm.
Season 14
It is assumed that it was repaired after the storm.
In Smells Like Teen Spirit, Miles and Tristan are seen making out in the green house.
In There's Your Trouble, the green house can be seen in the background as Eli confronts Clare.
In Firestarter (2), the green house can be seen in the background as all the students evacuate the burning school.
In Don't Look Back, the green house can be seen a few times throughout the episode.