Student Council is a group comprised of students who act as a governing body for the social and philanthropic aspects of Degrassi Community School. The Student Council plans dances, fundraisers, and various events throughout the school year.
Members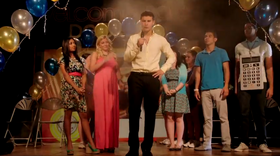 Current
Former
Former Degrassi Junior High
Season 1
Season 2
Season 3
Former Degrassi High
Trivia
Sav, Holly J., Drew, and Clare were the only President and Vice-President to have a relationship or an attraction to one another.
Katie Matlin was fired as President.
Miles Hollingsworth III was disqualified as President after being chosen, thus having Tristan take his place.
Siblings Liberty and Danny Van Zandt served as Secretary, though Liberty became President.
Ashley, Marco, Holly J. and Sav were all friends of Spinner Mason.
Marco, Liberty, Holly J., Fiona and Connor were valedictorians of their respective classes.
Zoe has been in Student Council every season that she appeared and every year that she'd been going to Degrassi.