Detective Taylor
was the detective who was assigned to the gang war case at
Degrassi Community School
. He arrested
Vince Bell
. He was portrayed by Matthew Bennett.
Character History
Season 14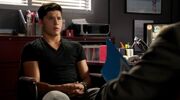 In
The Kids Aren't Alright (1)
, he talks to Zig, and Zig answers everything about
Damon Carter
's shooting honestly, but does not reveal that
Vince Bell
was involved.
In The Kids Aren't Alright (2), Zig wants out of the gang life, so he reveals that Vince was Damon's shooter and says that Tiny Bell wasn't involved. Detective Taylor says that cooperating with the police will help him and Tiny, but does not guarantee that they won't get sentenced for their involvement. He is the one to arrest Vince at the musical, and Vince seems to already be acquainted with him.