Dr. Andras
was a minor character appearing in two episodes of
Season 5
of
Degrassi: The Next Generation
. He was a plastic surgeon.
Character History
Season 5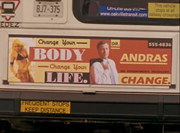 In
Venus (1)
, after
Manny Santos
was shot down by a talent agent, she heads to Dr. Andras's office after feeling insecure about her body and seeing an advertisement on a bus. She goes with
Emma
to his office, and Emma tries to talk her out of it. Manny talks to Dr. Andras about areas she wanted off, and he tries to convince her into getting a breast augmentation. Manny assures him that she has enough money and parental consent, and gives a deposit on her mom's credit card. Manny's visit to Dr. Andras infuriated
her father
, and he kicks her out of the house after calling her a slut.
In
Venus (2)
, Manny heads back to his office and asks for her money back since her breast enhancement surgery has been cancelled. He claims they have already refunded the credit card, but she asks for cash.
He claims that not how it works and opens the door for Manny to leave. She finally leaves after he threatened to call security.