Everett Kincaid

Information
Full Name
Everett Kincaid
Nickname(s)
Ev (By Lena)
Gender
Male
Eye Color
Brown
Hair Color
Brown
Network
Family
Jordyn Kincaid (Mother)
Lena Kincaid (Sister)
Production
First Episode
Don't Look Back (1425)
Last Episode
Don't Look Back (1428)
Episode Count
4
Portrayed By
Jaiden Cannatelli
Everett Kincaid
is the son of
Jordyn Kincaid
and the brother of
Lena Kincaid
. He was portrayed by Jaiden Cannatelli.
Character History
Season 14
In Don't Look Back, when Maya replaces Gloria Chin as the kid's nanny, Everett and his sister, Lena are upset because they liked Gloria. They stand up for her against Maya talking negatively about her. Later, Everett and his sister scare Maya by pretending there is a ghost in their apartment, and that their apartment building used to be an insane asylum. Everett and Lena proceed to pull pranks on Maya and Zig, who had shown up, for the rest of the night. The next day, Maya and Zig pull their own prank on Everett and Lena, who agree to treat Maya better.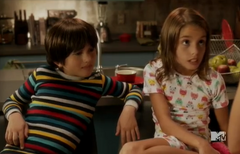 Maya spends most of her summer babysitting Everett and his sister, and ends up taking them to the Zombie Run. Maya is fired for telling Jordyn that she should spend more time with her kids, though Jordyn eventually rehires her.
Ad blocker interference detected!
Wikia is a free-to-use site that makes money from advertising. We have a modified experience for viewers using ad blockers

Wikia is not accessible if you've made further modifications. Remove the custom ad blocker rule(s) and the page will load as expected.