Gamal is the owner of The Dot. He is portrayed by Suresh John.
Character History
Season 9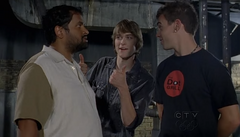 In
Start Me Up
,
Peter
pitches the idea for
Above the Dot
to
Spinner
, and Spinner agrees to talk to Gamal with Peter if he cleans up the place. Gamal agrees to the idea when Spinner vouches for Peter, but at the conditions of no drug or alcohol use on the premises. He tells Spinner that if the place makes a profit, then he'll put Peter on the payroll.
In Degrassi Takes Manhattan, Spinner and Gamal are overseeing the damage after the fire, and Spinner apologizes to Gamal, saying it was his fault. Gamal says they'll be closed for the summer and renovation will depend on the insurance. Later on he announces to Spinner and Peter that the insurance came through, and that The Dot will be "better than ever". He inspires Spinner to make up with Emma when he says that "good things come from accidents".
Appearances
Quotes