Goldi-Hunter Conflict

General Information
Intimacy Level
Enemies
Conflict Started
#NotAllMen (1506)
Conflict Status
Enemies
The conflict between
Goldi Nahir
and
Hunter Hollingsworth
began in
season 15
of
Degrassi: Next Class
.
Conflict History
Season 15
In #ButThatsNoneOfMyBusiness, Goldi explains to Maya why the gaming club, which was proposed by Hunter, should be shut down. Goldi affirmed that the club normalized and celebrated sexual violence, which could be triggering to students who have been assulted, as their competitions are held in the gym.
In #NotAllMen, Hunter is in a meeting with The Feminist Club and Student Council, who give him their reasons for shutting down the club, which he responds in an Islamophobic and racist way. Archie Simpson and the PTA ordered that the club be shut down after his remarks.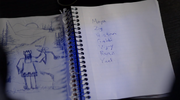 In #SorryNotSorry, Goldi is included on Hunter's list of those he'd possibly hurt. They are both in the same room during the lockdown, but Hunter ends up choosing not to hurt anyone.
Trivia
Goldi's brother is in Hunter's Gaming Club.
Gallery