Grandma Baker is the mother of Reverend Baker, the mother-in-law of Mrs. Baker, and the grandmother of Becky and Luke Baker. She is portrayed by Judy Marshak.
Character History
Season 14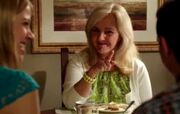 In Something's Got to Give, Drew Torres ditches his birthing class with Clare Edwards to meet Becky's grandmother, and Becky quizzes Drew on questions that her grandmother might ask. Grandma Baker seems to like Drew until she learns that he is expecting a child. Becky is furious that Drew mentioned the baby in front of her grandmother and ruined dinner.
Mentions
Season 13
In Believe (2), Luke and Becky talk before the trail begins and Luke asks Becky if she remembers the time when they were 6 and she dropped Grandma Baker's ring down the drain, he covered for her until she confessed the next day.
Trivia
Becky warned Drew to not mention evolution in front of her.
She has a Cocker Spaniel named Tia and a Yorkshire Terrier named Bodie.
Ad blocker interference detected!
Wikia is a free-to-use site that makes money from advertising. We have a modified experience for viewers using ad blockers

Wikia is not accessible if you've made further modifications. Remove the custom ad blocker rule(s) and the page will load as expected.