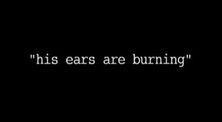 His Ears are Burning
is a
Degrassi Mini,
a part of the second season of minisodes, that aired in the
sixth season
.
Cast
Plot
Darcy and Manny dismiss Spirit Squad practice, and both girls complain that they were forced to move into a classroom for practice because of the hockey team. Spinner enters the room, and asks Darcy and Manny which one will be tutoring him. Manny tells him that he is in the wrong place, and Darcy tells him that they are working, hinting that he should leave. Spinner leaves, but closes the door so that there is a crack for him to hear. Darcy and Manny notice that he is eavesdropping, and both girls decide to mess with him. They talk about his turn-ons and their past relationships with him. Darcy pretends that she is overcome with her feelings for Spinner, knowing that he is listening, and Darcy sneaks over, opening the door that Spinner is leaning against, causing him to fall. They ask him if he was spying on them, and he pathetically denies it. Darcy says that it is like her heart is breaking, pretending she is distraught, and the two leave. Spinner begs them to come back, but when he tries to stand up, he gets tangled in his backpack. However, he gives up, realizing he blew his chance.
Quotes
Darcy: "Spinner in a small dressing room?"
Spinner: chuckles "Oh yeah!"
Video
Alternate Versions