The conflict between
Hunter Hollingsworth
and
Maya Matlin
began in the
first season
of
Degrassi: Next Class
.
Conflict History
Season 1
In #ButThatsNoneOfMyBusiness, Goldi explains to Maya why the gaming club, which was proposed by Hunter, should be shut down. Goldi affirmed that the club normalized and celebrated sexual violence.
In #NotAllMen, Hunter is in a meeting with The Feminist Club and Student Council, who give him their reasons for shutting down the club, which he responds in an Islamophobic and racist way. Archie Simpson and the PTA ordered for the club to be shut down.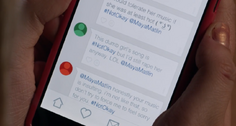 In
#TeamFollowBack
, Maya has been harassed online with threats of stalking and rape. She is doxxed, meaning all of her personal information was put online, and someone calls the SWAT team on her house. It is learned later than Hunter, with the help of his friends, is behind the harassment.
In #SinceWeBeinHonest, Zig suspects that Hunter is the one trolling Maya when he hears Hunter say a phrase that one of the troll accounts had retweeted at Maya. Zig follows Hunter into the bathroom, and pins Hunter against a stall, while Zig looks at his phone. Zig sees that Hunter was in the middle of tweeting at Maya, and confirms his suspicion. He yells at Hunter to stop trolling Maya, and Hunter says he won't, saying Maya deserves all of this. Zig begins punching Hunter, but their fight is broken up by Darryl Armstrong. Hunter tries to blackmail Zig into staying quiet, threatening to show Maya the video that Zoë recorded of her and Zig, but Zig ends up telling Maya and Grace anyway.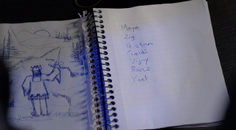 In
#SorryNotSorry
, Maya admits how scared the trolling made her feel, and Hunter tells her she was overreacting. Yael, Baaz, and Vijay admit to trolling Maya, but Hunter tells Maya that she "deserves what she got".  Maya is on Hunter's list of those he might hurt. They run into each other briefly at the dance, but Maya quickly walks away.
Trivia
Quotes
Gallery