The love triangle between
Imogen Moreno
,
Eli Goldsworthy
, and
Fiona Coyne
began in the
Season 11
episode,
Not Ready To Make Nice (1)
, when Fiona plays matchmaker for Imogen and Eli to avoid her own crush for Imogen. Imogen was in the center of the love triangle.
Love Triangle History 
Overview
Season 11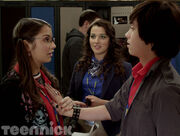 In Cry Me A River (2), in Drama Class, Fiona says that Eli is the best writer in the class and Imogen quickly responds with "obviously."
In U Don't Know (1), Imogen, Eli, and Fiona are walking through the halls, talking about who will get the role of "Clara." Imogen tells Eli that she's a perfect match. Fiona then walks away.
In Lose Yourself (2), Imogen, Fiona, and Eli are seen at the Love Roulette rehearsals.
In Underneath It All, Fiona runs into Eli and Imogen in the hallway after class, and mentions her party. Eli jokingly asks whether his invite got lost in the mail. Fiona tells Eli that she did not think he would be interested in coming. Eli says he isn't, but says that Imogen may be interested.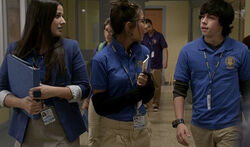 In 
Not Ready To Make Nice (1)
, Fiona realizes she has a crush on Imogen, so her plan to nip it in the bud is simple: she tries to hook Imogen and Eli up. Eli admits that he has feelings for Imogen, while Imogen's feelings are somewhat unknown. Fiona invites them both of them to her loft, where she has a picnic laid out for them. Fiona told Eli she was setting them up, but not Imogen, who looks uncomfortable about the situation. Eli leaves and Imogen questions why Fiona is being so pushy about getting her and Eli together.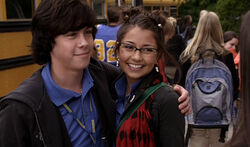 In 
Not Ready To Make Nice (2)
, Imogen thinks that Fiona is setting her and Eli up because she doesn't want to be friends anymore, but Fiona assures her that's not the case. Later, Eli and Imogen tell Fiona that they talked and have decided to go out on a date. Fiona's plan worked; she pretends to be happy for them, but feels sad because she still has feelings for Imogen.

In Need You Now (2), Imogen rants about her relationship with Eli to Fiona at Fiona's condo. They are seen holding a lamp and umbrella after Eli breaks in. Eli and Imogen argue while Fiona, Imogen, and Adam think Eli's having a manic episode.
Trivia
Timeline
Gallery