Isabella

Information
Full Name
Isabella
Gender
Female
Hair Color
White and black (fur)
Network
Family
Daphne Hatzilakos (Owner)
3 Children
Production
First Episode
Hot for Teacher (215)
Last Episode
Hot for Teacher (215)
Episode Count
1
Isabella
was one of the class guinea pigs in
Daphne Hatzilakos
's classroom. Daphne and
J.T. Yorke
cared for her when they discovered she was pregnant.
Character History
Season 2
In Hot for Teacher, when J.T. is sentenced to a week's detention of caring for the guinea pigs with Mrs. Hatzilakos, he makes a comment about Isabella's weight, which causes Mrs. Hatzilakos to realize that Isabella is pregnant. J.T. is happy when he learns about the news, and he offers to do some research about guinea pig pregnancy.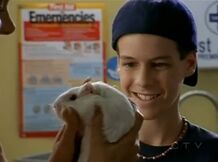 Later, J.T. discovers that Isabella got out of her cage, and he and Mrs. Hatzilakos try to catch her, but she escapes out of reach into the air vent. Mrs. Hatzilakos reveals that she isn't safe since the the janitors recently spread rat poison through the vents. After a period of time, Isabella eventually comes back out and climbs into her cage, and J.T. reveals the next day that she had three babies soon after.
Trivia
Ad blocker interference detected!
Wikia is a free-to-use site that makes money from advertising. We have a modified experience for viewers using ad blockers

Wikia is not accessible if you've made further modifications. Remove the custom ad blocker rule(s) and the page will load as expected.