The love triangle between
J.T. Yorke
,
Liberty Van Zandt
, and
Mia Jones
began in
Eyes Without A Face (1)
, when J.T. and Mia began dating and Liberty witnessed the two of them hugging. J.T. was in the center of the love triangle.
Love Triangle History
Overview
Season 6
In 
Eyes Without a Face (1)
, Liberty sadly sees J.T. hugging Mia.
In What's It Feel Like to Be a Ghost? (1), At The Dot, Liberty tells Mia about J.T.'s past and their relationship and of how J.T. got Liberty pregnant, which upsets Mia. The love triangle grows when later, Liberty rejects J.T.'s idea of opening a Degrassi Daycare, so that Mia can drop off her daughter, Isabella, while she's at school.
In Rock This Town, Liberty gets upset when J.T. says he's in love with Mia, though J.T. later decides to break up with Mia and go back to Liberty. However, he is stabbed by Drake Lempkey on his way to telling Liberty that he still loved her.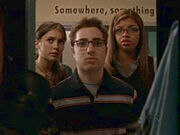 In 
The Bitterest Pill
, Mia and Liberty both attend J.T.'s funeral. At school when
Toby
cleans out J.T.'s locker, Mia starts taking out the majority of J.T.'s things and puts them in her bag. When they ask why she's taking everything to herself, Mia fires back at Liberty saying she didn't even care about J.T. and didn't cry at his funeral. She calls her a computer and Liberty leaves mad. When the memorial goes on, Toby tells Mia that J.T. was in love with Liberty which makes Mia angry and says that J.T. called her Liberty 3000 and that he hated her then walks off until Liberty asks for the tape Mia wanted played at the memorial. At the end of the episode Mia, Liberty and Toby clean out J.T.'s locker together, suggesting they are on friendly terms.
Trivia
They were all friends with Manny Santos, who previously dated J.T.
Before J.T.'s death, he had planned to break-up with Mia because of his feelings towards Liberty.
After J.T.'s death, Mia continuously scolded Liberty because she had not shown emotions or expressions.
This love triangle is similar to the Adam-Becky-Imogen love triangle where the center of the love triangle dies and the two girls were left in a conflict.
Liberty and Mia both attended J.T.'s funeral in The Bitterest Pill.
Timeline
Start: Eyes Without A Face (605)
End: Rock This Town (611)

Reason: J.T. realized he was in love with Liberty, and tried to tell her at her birthday party. However, he was stabbed to death before he could do this.
Gallery