The love triangle between
Jane Vaughn
,
Spinner Mason
, and
Declan Coyne
developed in the
ninth season
of
Degrassi: The Next Generation
. Jane was in the center of this love triangle.
Love Triangle History
Overview
Despite having been in a relationship with Spinner for at least a year, Jane was attracted to Declan. She decided to have an affair with him that lasted for a few weeks. Holly J. also developed feelings for Declan, but confronted Jane about cheating on Spinner. Jane decided it was wrong to cheat and broke things off with Declan. Holly J., Jane, and Declan kept the affair a secret from Spinner until he overheard Jane and Holly J. talking about it months later. Spinner punched Declan as revenge, and he then broke up with Jane.
Season 9
In Close to Me, Jane and Declan are put in charge of the school play Space Awakening. Jane decides to invite Declan to Spinner's housewarming party. At the end of the party, Jane and Declan come up with a subject for the school play. Declan offers to walk Jane home, but she rejects him. Declan invites Jane to work on the play with him at his house and Jane accepts. Declan gives Jane a tour of his house and even though he knows she has a boyfriend, Declan kisses her. The next day, Declan walks into The Dot and sees Jane and Spinner together. He asks Jane if she wants to study at his house tonight and she says yes.
In Wanna Be Startin' Somethin', Jane and Declan continue to cheat behind Spinner's back. Holly J. begins to crush on Declan. She catches Jane and Declan kissing and confronts Jane. Jane eventually breaks it off with Declan, feeling bad about cheating.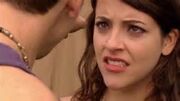 In Degrassi Takes Manhattan, Spinner goes to Declan's pool party with Jane, and ends up overhearing Jane and Holly J. talking about Jane's affair with Declan. Angry and hurt, Spinner goes into a blind-rage, breaking up with Jane and punching Declan in the face on the way out. 
Trivia
In the Good Times mini, Bruce also finds out about Declan and Jane's affair.
Spinner found out about Jane's affair with Declan and punched him in the face.
Before it was revealed to everyone in Degrassi Takes Manhattan, Declan, Holly J., Jane, and Bruce (in the Degrassi Mini Good Times) were the only ones who knew about Declan and Jane's affair.
Declan and Jane called their affair "homework" around Spinner.
Timeline
Gallery