The love triangle of
Jay Hogart
,
Alex Nuñez
, and
Paige Michalchuk
occurred in the
fifth season
of
Degrassi: The Next Generation
. Alex was in the center of the love triangle.
History
Season 5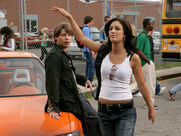 In The Lexicon of Love (1), Jay attempts to ask Alex to the movie premiere because he has two tickets, but she rejects his offer because she is going with Paige. When Jay and Silent Bob Go Canadian, Eh! premieres, Alex is excited to go. Although Paige is reluctant to go because she was cut out of the movie, Alex finally convinces her to come and enjoy time together. To get into the after-party, they pretend to be a lesbian couple. Inside, they begin to dance provocatively in the middle of the floor. Jay criticizes Alex for "putting on a show for everyone," but Alex replies that the night isn't about her, it's about Paige. He finds Alex at the premiere and asks if she has become a lesbian, to which she says he is disgusting. Her careless attitude begins to anger him, and he asks her why she thinks the night is about her, but Alex says the night is about Paige, not her.
In The Lexicon of Love (2), Jay finds Alex in the laneway while she was waiting for Paige to show up. He tells her has had found Paige's shoes from the previous night, and demands to know why she believes she has anything in common with a stuck up cheerleader. When Paige shows up, interrupting their conversation, Jay throws the shoes into Alex's lap and storms off. It is revealed though that Jay did not leave, as he saw Alex and Paige share a kiss. Later, when Alex is walking home, Jay is sitting outside of her apartment door. Alex asks him what he wants, and he tells her that his life sucks, and the only person who ever got him, Alex, won't give him the time of day. He says they're the same, and Alex lets him into her apartment. Jay tries to get her to take him back, though Alex says they are never going to happen again.
In High Fidelity (1), when Alex and Paige break up, Jay is there to comfort her, and the two reconcile after not talking for a year. Alex directly comes out to him as a lesbian after he tries to hook up with her.
Trivia
Timeline