Ad blocker interference detected!
Wikia is a free-to-use site that makes money from advertising. We have a modified experience for viewers using ad blockers

Wikia is not accessible if you've made further modifications. Remove the custom ad blocker rule(s) and the page will load as expected.
Jonah-Grace Friendship

General Information
Intimacy Level
Friends, Bandmates
Friendship Started
BootyCall (1501)
Friendship Status
Friends
The friendship between
Jonah Haak
and
Grace Cardinal
developed in the
fifteenth season
of
Degrassi: Next Class
.
Friendship History
Season 15
In #BootyCall, Jonah auditions for Maya's band, which Grace plays the keyboard in. At Miles's pool party, Grace talks to Maya about putting Jonah in the band.
In #NotOkay, Maya, Jonah, and Grace audition for The Trap Door, and they get the gig. Keith, the bartender at The Trap Door, tells them to dress nicer, and Jonah tells them they're going shopping. The night of their gig, Jonah and Grace are waiting for Maya, who barely makes it on time. Maya gets agitated before their performance when a man asks her if she needs help plugging in her own gear. Grace sticks up for Maya, and Jonah asks Maya if they can focus on the show. Their performance goes well until Maya stops it to ask a man to quiet down. Grace, Maya, and Jonah luckily get another chance to perform at The Trap Door.
In #SorryNotSorry, while they are setting up for the dance, Jonah suggests they play Maya's song "Yes", which she wrote for Zig, and Grace angrily rejects the idea. Maya figures out that she knew that Zig cheated and didn't tell her, so she kicks Grace out of playing with them that night. As Grace leaves, Maya tells Jonah to say something, but he is entirely confused on what happened.
Season 16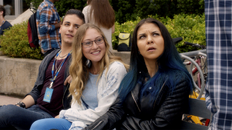 In
#BuyMePizza
, Maya approaches Jonah and Grace, who are sitting on a bench outside. Maya suggests they play with
Peter
's band for the anniversary gala, and Jonah and Grace are on board with the idea.
Baaz
approaches Grace, and insults her wardrobe, causing Maya and Jonah to laugh. Grace scares him off, but Jonah and Maya comment on how her style is "terrifying", not dressing to look attractive to guys, and "always ready for a funeral".
Trivia
Gallery