Jordan was a guy whom Emma Nelson had met online. His real name was never revealed, but he told Emma to call him Mr. Nystrom. He appeared in one episode only, Mother and Child Reunion (2). He hacked and read Emma's email and pretended to be a teenager with the same interests as her to gain her trust.
When they met up in person in some hotel, he turned out to be a man in his 40's. He told Emma that he was Jordan's teacher, then told Emma that he was in the other room. Then Emma found out he was Jordan, then ran to the bathroom. He was planning on raping Emma while filming it in a hotel room.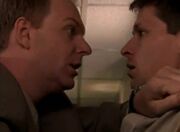 Luckily,
her mother
and her friend
Mr. Simpson
come to rescue her just in time.
J.T.
,
Manny
and
Toby
had hacked into Emma's email, the same way Jordan had, discovering that he had read her emails by doing so, and pulled Spike out of her high school reunion.
He was portrayed by Jeff Gruich.
Trivia
Jordan is the first character to be a sexual predator online. The second was Adams and the third was LoveQueen16.