Julia Manning-Jeremiah
(1968-1999) was a Canadian citizen who was once married to
Dr. Albert Manning
, with whom she had her first child,
Craig
, in September 1988. She and Albert eventually divorced. She later married
Joey Jeremiah
, and they had a daughter named
Angela
in 1996. Julia died in 1999.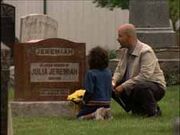 In When Doves Cry (1), Craig reminded Emma Nelson that his mother and her mother Christine Nelson had made them dance together at Julia and Joey's wedding.
Trivia
Relationships
Albert Manning

They were married and divorced before Degrassi: The Next Generation premiered. They had one child, Craig.
Main article: Joey-Julia Relationship
Joey Jeremiah

While exact details of when the couple got together are unknown, we do know that Julia dies before Degrassi: The Next Generation premiered and that Joey had a child (Angela) with her.
Ad blocker interference detected!
Wikia is a free-to-use site that makes money from advertising. We have a modified experience for viewers using ad blockers

Wikia is not accessible if you've made further modifications. Remove the custom ad blocker rule(s) and the page will load as expected.