Kara
is the captain of Northern Tech's volleyball team. She is portrayed by Clarissa Anson.
Character History
Degrassi: Next Class
Season 2
In #SquadGoals, she and the rest of her team prank the Degrassi Volleyball Team by stealing their clothes and pulling the fire drill. In retaliation, Frankie and the team draw the Northeastern Tech team as animals, and specifically draw Kara as a monkey. At the game versus Degrassi, Kara and her team refuse to play against Degrassi, saying they don't play against racists.
In #TurntUp, Shay goes to apologize to Kara, and she asks where Frankie is and if Shay drew her as a monkey. Kara tells Shay they want the people responsible to own up, and Shay tells her it was just a joke. Kara asks if it was just a joke when people ask how many baby daddies she has, if they can touch her hair, or assume she can't swim. Shay says the Degrassi prank wasn't meant to be racist, and Kara says that it still hurts because other people in the world do mean it like that. Kara says she wants the person responsible to quit the team and be held accountable for their actions.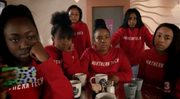 In
#CheckYourPrivilege
, she attends Frankie's diversity mixer, and figures out that Frankie is the one who drew the picture of her. Kara angrily asks if she knew what that felt like and refuses to let the matter go, even though Frankie didn't mean for it to be racist. Frankie later meets up with Kara and her team to apologize again, but she gets a call and is quick to leave. Kara later tweets about how Frankie said "she was sorry that they were offended", resulting in the Degrassi volleyball team kicking Frankie off the team.
In #OMFG, She plays against the Degrassi team. After the game, she asks Shay if she is okay referring, to the missing Degrassi fans.
Quotes