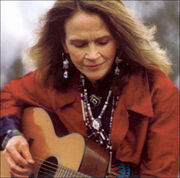 Kate Taylor
(born August 15, 1949) is an American folk singer and singer-songwriter, originally from Boston, Massachusetts. She grew up in Chapel Hill, North Carolina, where her father was Dean of the medical school at the University of North Carolina. Her mother, Trudy, had received training as a lyric soprano in Boston.&nbsp
A member of one of the most famous musical families in America, Taylor and her four brothers, Alex, Livingston, Hugh and James, have all enjoyed some measure of success as performing and recording artists, starting in the late 1960s. Kate, Livingston and James are still active musicians; Hugh owns an inn on Martha's Vineyard; Alex is deceased. James Taylor's career has been particularly successful. Taylor formed her first band at age 15 and had her first record deal with Atlantic Records four years later—her debut album Sister Kate was released in 1971. Her second album, the 1978 self-titled Kate Taylor,was produced by her brother James and Lew Hahn. It was fairly well received, and produced another charting hit, "It's in His Kiss (The Shoop Shoop Song)", done as a duet with James. It peaked at 49 on the Billboard charts. The following year Taylor released It's in There, produced by Barry Beckett, which failed to reach its public. After this release Taylor took a break from the music industry for the next two decades to raise her daughters Elizabeth and Aretha. She continued to perform and contribute to various projects, including an appearance on the Mark Heard tribute album Orphans of God and as a back-up singer for various other artists. She released another album in 2003, Beautiful Road, a particularly personal album, dedicated to her manager and husband, Charlie Witham, who fell ill while she was recording the album and died shortly before its release. In 2003, Taylor resumed her touring career and now plays regularly in New York City, New England and the South. In 2005, Taylor released her first live album, Kate Taylor Live at The Cutting Room, a recording of a live concert made the previous year.
Ad blocker interference detected!
Wikia is a free-to-use site that makes money from advertising. We have a modified experience for viewers using ad blockers

Wikia is not accessible if you've made further modifications. Remove the custom ad blocker rule(s) and the page will load as expected.