The relationship between
Kelly Ashoona
and
Gwyneth
began around the beginning of the
eighth season
of
Degrassi: The Next Generation
.
Relationship History
Overview
The two met at the beginning of their freshman year at Smithdale University and began a relationship, which was discovered by Kelly's roommates Emma Nelson and Manny Santos after the two found them in bed together. However, Kelly soon broke up with her, which left Gwyneth devastated, as it took 8 hours for him to console her. Their relationship only lasted for a few weeks.
Season 8
In With or Without You, Manny and Emma found Kelly and Gwyneth making out in their dorm, signaling the start of her and Kelly's relationship at Smithdale. Afterwards, Kelly yells at them because they walked in even though there is a sock on the doorknob.
In Lost in Love (1), Kelly reveals to Emma, Manny, and Liberty that he broke up with Gwyneth, and that she sobbed for a lengthy amount of time, even though they only went out for a couple of weeks. Emma and Kelly begin to flirt with another, and when Gwyneth walks by the two in the hallway, she glares at Kelly, causing him to remark that her idea of staying friends was different than his.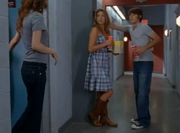 In Lost in Love (2), after Emma and Kelly's first date, Gwyneth emerges from their dorm room, wanting to talk to Kelly. They go get a coffee, and when they are gone for too long, Emma jumps to the conclusion that they had gotten back together, and leaves for her home since she doesn't want to be at college when they return. When Kelly finally gets back, he assures Manny that him and Gwyneth are not back together, and he just spent the last 8 hours consoling her and telling her that.
Timeline
Rival Relationships
Gallery