Kevin

Information
Full Name
Kevin
Gender
Male
Hair Color
Brown
Network
Job
College Student
Resident advisor
School(s)
Banting University
Production
First Episode
Free Fallin' (2) (615)
Last Episode
Free Fallin' (2) (615)
Reason
Paige left Banting.
Episode Count
1
Portrayed By
Nicholas Carella
Kevin
was the former resident advisor (RA) for
Paige Michalchuk
during her stay in the dorms at
Banting University
. He only appeared in one episode of the
sixth season
. He was portrayed by 
Nicholas Carella
.
Character History
Season 6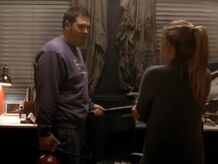 In
Free Fallin' (2)
, he puts out the fire in Paige's room. He tells her she can sleep in the common room for now since she cannot stay in her room, which freaks Paige out because she has a lot of work still left to do. Later, while Paige is trying to finish her late work, he approaches her, and asks if he could check his blog. Paige replies that trying to save her semester is more important. Kevin only reminds her that she doesn't have much time left to do her work, before leaving.
Trivia
Ad blocker interference detected!
Wikia is a free-to-use site that makes money from advertising. We have a modified experience for viewers using ad blockers

Wikia is not accessible if you've made further modifications. Remove the custom ad blocker rule(s) and the page will load as expected.