Kiko and Suki were the two roommates of Ellie Nash, Marco Del Rossi, and Dylan Michalchuk. They were briefly seen and first appeared in Here Comes Your Man (1) and last appeared in Rock This Town.
In If You Leave, Marco convinced Ellie to go to the cinema with Kiko and Suki so he could have a romantic dinner with Dylan.
In Free Fallin' (1), it was mentioned that Kiko and Suki were visiting Niagara Falls.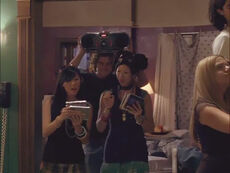 Ad blocker interference detected!
Wikia is a free-to-use site that makes money from advertising. We have a modified experience for viewers using ad blockers

Wikia is not accessible if you've made further modifications. Remove the custom ad blocker rule(s) and the page will load as expected.