Lena Kincaid
is the daughter of
Jordyn Kincaid
and the sister of
Everett Kincaid
. She was portrayed by Ava Preston.
Character History
Season 14
In Don't Look Back, she scares Maya Matlin when they first meet. When Maya replaces Gloria Chin as the kid's nanny, Lena and her brother are upset because they liked Gloria. They stand up for her against Maya talking negatively about her. Later, Lena and her brother scare Maya by pretending there is a ghost in their apartment, and that their apartment building used to be an insane asylum. Lena and Everett proceed to pull pranks on Maya and Zig, who had shown up, for the rest of the night. The next day, Maya and Zig pull their own prank on Lena and Everett, who agree to treat Maya better.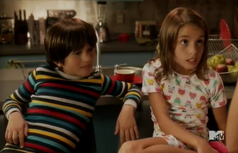 Maya spends most of her summer babysitting Lena and her brother, and ends up taking them to the Zombie Run, though loses Lena. Lena says she ran off because Maya would rather spend the day with Zig, and knows that Maya only took the nanny job because Maya wanted to impress her mom. Lena says that no one wants to hang out with her, Maya or her mom, and comments that her mom sucks at showing that she loves her. Maya tries to talk to Jordyn about spending more time with her kids, but Jordyn ends up firing her, though later rehires her.