Louisa Del Rossi is the mother of Marco Del Rossi and the wife of Mr. Del Rossi. She was the first one out of their family that Marco told about his sexuality. She was portrayed by Brona Brown.
Character History
Season 2
In Drive, Spinner Mason hoped that Louisa would be able to get them tickets to Kid Elrick's concert as he believed that she worked in the music industry. However, Marco told him that she was a piano teacher.
Season 3
In It's Raining Men, Marco and Dylan Michalchuk went on their first date. At the restaurant where they were eating, Marco and Dylan ran into Marco's homophobic Italian parents who made the evening awkward.
Season 4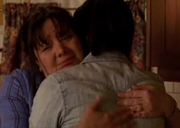 In
King of Pain
, it is revealed that she works at a pharmacy. She is fully supportive of Marco running for class president, including helping to make posters and attending then his school assembly to hear Marco's speech. She notices something is bothering Marco, when he was upset over his break up with Dylan, and accepts him upon coming out to her. She is very proud of Marco when he wins the election, and is happy that he made up with Dylan. She continues to keep her son's sexuality a secret from her husband until Marco eventually comes out to his father in
Tell It to My Heart
.
Season 5
In Tell It to My Heart, Louisa has still not told her husband that Marco is gay.
Season 6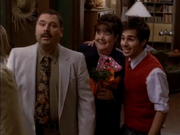 In
Free Fallin' (1)
, Louisa and Mr. Del Rossi visit Marco's new home. They stay over for dinner with Dylan's parents
Jeff
and
Rose Michalchuk
. She comments that she also wishes she had had a daughter.
Appearances