Did you know...
…Degrassi's first episode aired, September 12, 1979.
…Archie Simpson is the only character to be a regular since Degrassi Junior High.
…Degrassi originally focused on children between the ages of 6–11.
…Alex Steele has been on the show before as Angie, Craig's younger sister. More recently, she has portrayed Tori Santamaria.
…Adam Torres was the first scripted teen transgender character in television history.
…Darryl Armstrong, who portrayed Tom in the episode "It's Raining Men", committed suicide by jumping off a bridge on Mount Pleasant Rd in Toronto on January 30, 2005.
…Neil Hope who portrayed Derek Wheeler during Degrassi Junior High / High died in 2007, but his death was not revealed until 2012.
…Stacie Mistysyn gave birth to a son named Grayson on June 29, 2012.
…Amanda Stepto is adopted in real life.
…Sara Ballingall who portrayed Melanie Brodie was stalked by a fan who tried to kill her.
…Shenae Grimes and her friend were kidnapped when they were in the fourth grade.
…Snake and Caitlin were the only ones to use the word "fucking" on Degrassi, and they were the first ones to use it on Canadian television history.
…Rebecca Haines was a victim of date-rape.
…Emma Nelson was named Emma in honor of DJH winning an Emmy award for Spike's pregnancy story line.
…Most of the DJH/DH cast used their own clothing and wore their own make up instead of depending on a makeup and wardrobe department.
…Degrassi is aired on Nickelodeon for countries that don't have the TeenNick channel.
…According to the DVD commentary, The episode "Secret" was the first use of the word "blow job" (as said by Jay Hogart) on any Viacom owned network. Viacom owns many popular networks such as MTV, Nickelodeon, and Comedy Central.
…The whole Degrassi franchise (DJH/DH/DTNG) has dealt with a whopping total of 5 student deaths to date. (2 accidental, 1 murder, and 2 suicide)
…Aubrey Graham who portrayed Jimmy Brooks is now known as big rap sensation Drake.
…Throughout the entire Degrassi Franchise, there have been 104 main characters up to date.
…Aubrey Graham who portrayed Jimmy Brooks has admitted that he was high on marijuana during his audition.
… Degrassi co-creator Linda Schuyler is married to executive producer Stephen Stohn.
…Travis Donegan, the actor who portrayed Towerz was fired for being late to set too many times.
…Casting for Degrassi Junior High, which aired in 1987, was partially done through flyers and notices in Toronto papers.
… All of Shane's piercings on the show were real, although Stacey Farber's (Ellie Nash), were fake.
… You can add more "Did You Know" Template:DYK
Featured Character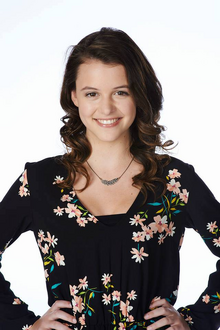 "Heroic? You think putting on a cheerleading uniform can cover up what you are? You're rotten inside. You're a villain and you deserve the absolute worst to happen to you."

Francesca "Frankie" Hollingsworth is the younger sister of Miles and twin sister of Hunter Hollingsworth. She is a Freshman (Grade 9) at Degrassi Community School. Frankie is the complete opposite of her older brother Miles. She's always trying to be the perfect daughter. Keeping up with appearances for her father's mayoral campaign is a top priority. Grounded, positive and intelligent, Frankie is the perfect image of what a politician's daughter should be. She made her first appearance in You Got Me. She was best friends with Keisha and Zoë Rivas. She is also friends with Shay Powers and Lola Pacini. Read More...
You can vote for next month's Featured Character Here!
Featured Article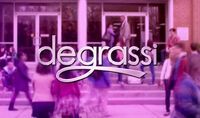 The 13th season of Degrassi premiered on July 11, 2013, on MuchMusic in Canada and TeenNick in the United States. The first part of the season (13A) followed a weekly format for 7 weeks, depicting the summer of 2013. The second part of the season (13B) followed a weekly format for 8 weeks, depicting the fall of 2013. The rest of the season (13C and 13D) depicts the remaining parts of 2013-2014 school year. Since the premiere of 13B on October 3, 2013, episodes aired on MTV instead of MuchMusic in Canada.

Three actors were added to the main cast in the summer block: Andre Kim, Eric Osborne, and Ana Golja. Two more were introduced in the fall block: Sara Waisglass and Nikki Gould. Niamh Wilson was added to the main cast in the winter block. The producers have also added some new people to the recurring cast.

Production and casting for the season began on November 2012 through January 2013, with filming beginning in April 2013 and wrapping up on October 24, 2013, at Epitome Pictures studios in Toronto, Ontario. Read More....

Helping Out
All pages can be edited and you are welcome to join us and contribute to this wiki. Everyone is free to create a new page or edit an existing one. If you have any questions about the wiki or helping out, you can ask one of Degrassi Wiki's administrators.
If you are new to wikis, you may want to read the help page.
A list of all help pages can be found in.
If you want to help but you're not sure where to start, try improving the various articles by expanding them.
Another helpful activity would be to check the list of wanted pages for frequently linked-to articles that don't exist yet.
You can find a list of useful templates on.
If you want to experiment with editing a wiki, please do it in a sandbox, not in articles.
Next on Degrassi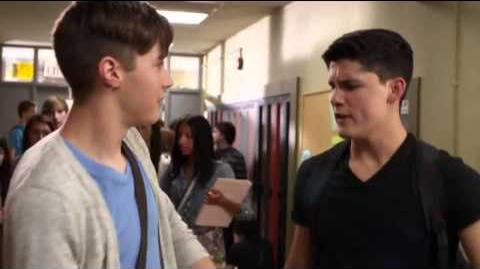 Degrassi Wiki Poll
This poll was suggested by Mzhotchick01!
Which Degrassi tragedy would you take back?
If you have a suggestion for next month's poll, leave a message here.
Latest Blogs
Create blog post
Blogs
another one of these surveys I found on tumblr. choose a show and state your:

M/F OTP:

F/F OTP:

M/M OTP:

Canon OTP:

Crack OTP:

NOTP:

Favorite Female:

Favorit…

Read more >

Hai bb's :* ♥ ~

So yall know how this works.....post a GIF of someone/something you like, and others can join you in your fangirling/boying! Anything …

Read more >

It's morning. Survivors are eating breakfast, scattered across the beach. Cam and Yazzy are sitting at the now-gone campfire, her head on his shoulde…

Read more >
See more >
Click HERE to add your birthday to the list!