Marco-Eric Relationship
Comments

10
2,114pages on
this wiki
The relationship between
Marco Del Rossi
and
Eric
is known as
Meric
(
M
arco/
Eric
). They formed in the seventh season of
Degrassi: The Next Generation
. At first, Marco rejected Eric's advances due to his long-distance relationship with
Dylan Michalchuk
, but after breaking it off with Dylan, the two became a couple.
Relationship History
Overview
Eric became acquainted with Marco through Ellie, with whom he worked at The Core. He quickly developed a crush on Marco, but Marco was still technically with Dylan, and eager to make their long-distance relationship work. However, Marco decided to end things with Dylan when he saw that he was more emotionally invested in their relationship than Dylan was. Marco and Eric eventually begin dating. They managed to maintain a stable relationship until Don't Stop Believin', when Eric noticed that Marco gave his friendship with Ellie priority over his relationship with him.
Season 7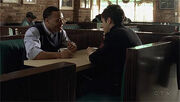 In
Standing in the Dark (2)
,
Ellie Nash
tries to set up Marco with Eric when she believes that Marco deserves better than Dylan Michalchuk, who has been treating Marco poorly in their long-distance relationship. Eric apologizes to Marco for the obvious set-up, but told him he thought that were something special between them. Dylan says that his boyfriend, Dylan, is what is in between them. Taking the rejection, Eric leaves the house. The next day, Marco admits to Ellie that he is attracted to Eric, but is feeling conflicted because of Dylan. He agrees to take Eric out for one cup of coffee to get Ellie off of his back.
Their date seems to be going well until Eric beings to touch Marco, and Marco tells him that he has a boyfriend. Eric calls Dylan Marco's "crutch," and Marco says that he is committed to Dylan. Eric tells Marco that he deserves someone that is good to him, and their date ends awkwardly. Marco later decides to break up with Dylan.
In Owner of a Lonely Heart, Marco runs into Eric working at the campus club, and the two decide to go on another date. However, the two have little in common, and Marco describes the date as lame. After realizing how far he was letting to let himself fall, Marco decides to give it a shot with Eric.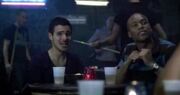 In
Don't Stop Believin'
, Eric and Marco have been dating for about a month, and the two agree to be exclusive. However, when Paige needs to move out because she now owns a condo, Marco and Ellie now need another roommate in order to keep up with the rent. Marco asks Eric to move in with him, but Eric says no because their relationship isn't ready for that much commitment. Eric tells Marco that he and Ellie are attached at the hip, which Marco denies. Marco and Ellie hook up that night, therefore cheating on Eric. The next morning, Marco remembers Eric, feeling guilty, and asks if it is cheating if it is with a girl. Paige tells him that cheating is in the heart, and Marco comments that he feels like a jackass, showing that he does think of it as cheating.
Later, Marco goes to The Core for Eric, as Eric expected to be named editor, and Marco asks Ellie if she told Eric about their hook-up. Eric approaches at that moment, and they both lie to him about the hook-up. Ellie brings up the topic of Eric moving in, and he agrees to reconsider. However, Jesse gives the job to Ellie, even though Eric deserved it, which infuriates Eric. He later implies to Ellie that she slept with Jesse to get the job, and he leaves.
Timeline
Start Up: Owner of a Lonely Heart (711)
Broke Up: Don't Stop Believin' (722)

Reason: Ellie got the editor job that he deserved, and was angry at Marco who was friends with Ellie. He never found out that they almost had sex.
Trivia
Eric never found out that Marco almost had sex with Ellie.
Dylan cheated on Marco with a guy named Eric. However, it was a different person.
Marco's best friend, Ellie Nash, worked with Eric.
Gallery