Margaret Matlin
Comments

44
1,895pages on
this wiki
Margaret Matlin
is
Maya
's and
Katie
's mother. She suffers from multiple sclerosis and uses a wheelchair. She is married to
Mr. Matlin
. She takes at least two pills of Codeine to deal with pain caused by her own injury. She is portrayed by
Spirit Synott
 in season 11 and Kate Hewlett in season 12.
Character History
Season 11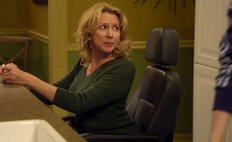 In
Can't Tell Me Nothing (1)
, Katie is eager to know if she made it to the National Soccer team after she tried out, and Margaret gives her advice. Later on, she encourages Katie when she is feeling nervous. She proceeds to ask Katie to give her medicine to her, and after Katie hands it to her, she takes her medicine, Codeine. Katie asks if she takes it everyday, but she says she only uses it when she needs it. Later on, Katie steals two pills of Codeine to deal with her pain due to her injury in the try outs but she doesn't find out.
In Can't Tell Me Nothing (2), she welcomes Katie home from the hospital with Maya. She sees Katie's surgery as the start of her recovery and her eventual return to the soccer field. When Katie asks what she is supposed to do since she can't play soccer now, Margaret reminds her that it is her senior year and that she has student council, her friends, and Drew to keep her busy. While putting her Codeine pills away, she tells Katie that she's sure she'll find something interesting to fill the void.
In Hollaback Girl (2), after Katie overdoses on oxycodone the night before, Margaret and her husband send their older daughter to rehab.
Season 12
In Degrassi: Las Vegas, Margaret breaks the news to Katie that they can't afford to send her to Stanford.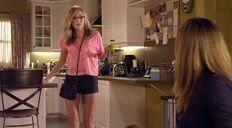 In
Zombie (1)
, Margaret does not allow Maya to go the a senior party, and tells her to practice her cello instead. Maya ends up sneaking out to the party anyway.
In Zombie (2), she is seen coming into the house with Katie and catches Maya and Harry together on the couch. Maya breaks down about Cam to Katie and her mother.
Trivia
Quotes