"Look who it is. The liar, the bitch, and her slutty wardrobe."
— Marisol to Bianca in Come As You Are.
The conflict between
Marisol Lewis
and
Bianca DeSousa
began in the
eleventh season
because of Marisol's loyalty to her best friend
Katie Matlin
.
Conflict History
Season 11
In Nowhere to Run, Bianca comes up to the cabin with scary theories, which freak out Marisol even more. As everyone leaves, Bianca is talking with Drew and Marisol and Katie watch them. Then, when Katie and Marisol talk, Marisol asks if she's okay with Drew and Bianca being friends, and Katie says she has to get used to it.
Season 12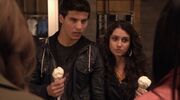 In
Come As You Are (2)
, Bianca and Drew run into Marisol and Katie at the mall and Marisol throws insults at both of them, then Drew talks with Katie then she and Marisol leave and Bianca asks if she dresses slutty and Drew lets Bianca know not to listen to them.
In Gives You Hell (1), At school once Bianca starts to yell at Katie, Katie argues back and Marisol is shown glaring at Bianca, then Marisol stops Katie from getting into a fight with Bianca.
In Degrassi: Las Vegas, Marisol and Bianca happen to be aboard the same flight to Las Vegas. They appear to be on better terms since Marisol attends Bianca and Drew's wedding, and plays an instrument when Drew serenades Bianca to win her back.
In The Time of My Life, Marisol and Bianca share a quick hug at graduation.
Trivia
They each had hooked up with another girl's boyfriend. Bianca with Drew while he was with Alli and again when he was with Katie. Marisol hooked up with K.C. while he was with Jenna.
They both had romantic feelings for Drew Torres, only Bianca dated him.
Marisol blames Bianca for playing apart in the Drew-Katie break up.
Marisol thought it was stupid of Bianca to want to get married.
Both had a conflict with Imogen Moreno.

However, Bianca is now friends with Imogen.

Both are enemies with Alli Bhandari and Jenna Middleton. However, Bianca ended her feuds with both girls.
Both are considered to be boyfriend stealers.
Both have been in a love triangle involving Drew and Katie.
Marisol was present at Bianca's almost wedding with Drew in Vegas.
Both characters were featured in Degrassi: Las Vegas.
Both had a friendship with K.C. Guthrie.

Marisol's friendship with K.C. turned into an affair behind Jenna's back.

Both girls have their own cars.
Both were on Power Squad, but Bianca was only on Power Squad in a minisode.
Quotes
Gallery