The friendship between
Maya Matlin
and
Goldi Nahir
developed during the
first season
of
Degrassi: Next Class
Friendship History
Season 1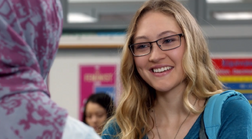 In 
#ButThatsNoneOfMyBusiness
, Goldi goes to Maya and Grace to ask them to perform Not Okay at The Feminist Club's protest to increase the amount of girls' bathrooms at Degrassi because the club views it as an anthem. Maya tells Goldi that she wrote it because of personal issues and becomes skeptical of the club. Later, Maya rejects Goldi's proposal because she claims to not identify as a feminist. Then Goldi tells her she is indeed a feminist after Maya says she believes that men and women should have equal opportunities. Maya then decides to get on board with performing for the club. 
Later, they both join the protest and Maya along with Grace perform at it. The protest is successful, thus leading Maya to want to join the club, pleasing Goldi. 
In #TeamFollowBack, Goldi along with grace and Zig are being supportive of Maya while she's dealing with online trolls. Goldi later introduces Maya who is doing a webcast presentation from and shocked upon seeing Maya being swatted.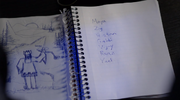 In #SorryNotSorry, they were both on Hunter's list of the people that he might hurt.
Trivia
They were both members of The Feminist Club.
They're both friends with Tristan.
Maya has a conflict Goldi's younger brother Baaz Nahir.
They both have conflict with Hunter.
They both got the gamer club shut down.
Gallery